Our Staff
Greetings in the name of the Lord, allow me to introduce myself. I am Rev. Don Rivers, President of Racing with Jesus Ministries, Pastor of Mount Carmel Christian Church. I am married to Lynda and we have three beautiful daughters, Elisabeth, Katie, and Danielle, and two wonderful grandchildren. We live in Coventry, CT.
I accepted Christ at the age of 30 and God's plan for my life was very different than what I had anticipated. I was ordained to the Gospel Ministry in May of 1999 while pastor of Emmanuel Baptist Church in West Springfield, MA. In early 2002 God led me to move from the pulpit to the mission field. I soon found myself in ministry as a Chaplain to the drivers and teams of NASCAR's touring divisions. God has taken my interest in racing and my love for Him and married them together on the mission field.
In 2005 the founder of Racing with Jesus Ministries, Rev. Pat Evans, developed pancreatic cancer and went home to be with the Lord. I then realized why God had placed me here. During Pat's illness I started assuming his duties and began taking care of the day to day requirements of the ministry. With Pat's passing I was appointed as president and along with another long time chaplain Rev. Dan Petfield, Pat left the ministry in our hands.
As God continued to grow this ministry the time came for me to leave my full time job and devote all my efforts to Him. God has provided, first as a bi-vocational position as pastor Emmanuel Baptist Church, now as Pastor of Mount Carmel Christian Church. God brought Mount Carmel under the RWJM umbrella and now it is the Church home for the ministry. God has been moving in a tremendous way through this ministry and I look forward to what He has in store for the future.
Dan Petfield, Vice President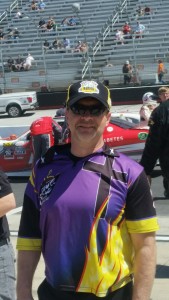 Hi, this is Dan Petfield and I am the Vice-president for Racing with Jesus Ministries as well as the chaplain for the NASCAR K&N Pro Series East. I am also a part time chaplain for the NASCAR Whelen Modified Tour and the ROC Modifieds. Oh, on the side, I also work for IBM in the Corporate Litigation department. I have been married to my beautiful wife Deborah since 1982. We have 3 children – my son Aaron is a New York City Police officer and married to Cynthia. They have given Deborah and myself our first grandson – Caleb. My oldest daughter Stephanie is a middle school teacher. She is married to Kevin Sackett and they have given us our first granddaughter – the beautiful Annabelle. My youngest daughter Amanda, is single and working as a veterinary technician in an animal hospital in Yonkers, NY.
God called me to this ministry in the late 1990's through the Rev. Pat Evans. I was up at Thompson one day viewing a NASCAR Modified Tour race and saw the pace car. I was thrilled to see Racing with Jesus on the side of a car on the track! I thought to myself what an awesome ministry – putting together a love for Jesus Christ and a love for racing. I immediately got in touch with him and through a series of events, he asked me to be the chaplain for the old NASCAR Busch North Series – now the K&N series. I was then ordained as a reverend by Pat through Racing with Jesus Ministries. Even though I have ministered to others, I have been blessed through the work that I do with this ministry. I know that God's calling has been on my life and has trained me to do what I do today. May God bless you and looking forward to seeing each of you at the tracks!
David Petfield, Treasurer of Racing with Jesus Ministries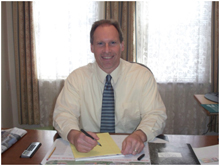 I have been blessed with my soul mate and wife, Toni and our precious daughter Nicole. We live in the picturesque town of New Paltz NY, nestled in the foothills of the Catskills. I was truly blessed to have been raised in a Christ centered household. I received Christ as my Lord and Savior at 5 years old and have never looked back.
In addition to handling the financial responsibilities of the ministry, I am the president and founder of Petfield & Associates, Inc. – an accounting and consulting firm. It has been nothing short of miraculous watching the hand of God lead this ministry to accomplish His purpose. Through RWJM, the lives of many in the racing community are being changed! It has been an honor to serve the Lord in this capacity.
Proverbs 3:5-6 – Trust in the LORD with all your heart and lean not on your own understanding; in all your ways acknowledge him, and he will make your paths straight.
Rev. Ray Pavkov, Chairman of the Board
March 5, 1967. This day in my life's history marks the day I was Baptized in West Akron, OH; after giving testimony to the life changing choice I made to ask Jesus to be my Savior, and the desire to give my life into the service of Jesus Christ.
"If you openly declare that Jesus is Lord and believe in your heart that God raised him from the dead, you will be saved. For it is by believing in your heart that you are made right with God, and it is by openly declaring your faith that you are saved" Romans 10:9-10.
I was 19 years old, and going down a pathway that was going to lead to ruin and no good things. One day, I was sitting next to an upperclassman from Ohio State, who asked me a simple question, which would forever change my life. She asked, "Ray, what are you going to do with Jesus"? (thank you Renee)
I can say with no regret, without looking back; Jesus has led me, and walked with me all the way over these last 50+ years. He has given me the Eternal Hope of Everlasting Life with Him in Heaven forever. This pathway of Blessings and Assurance is SO much better than the one I was on!
" …for I am not ashamed of the Good News of Jesus Christ, because it is the Power of God that leads to our Salvation…" Romans1:16
August 17, 2007, I was attending a race in Connecticut at Lime Rock Park Raceway. Parked in the paddock area were two Racing With Jesus Ministries Pace Cars. I asked Rev. Don Rivers what these RWJM cars were all about, and he proceeded to tell me the mission and scope of being a "Racers Church" that supplied Chaplains to NASCAR Touring Divisions, as well as other Touring Divisions, and local tracks. I said that if he gave me a hat, I would wear it. Little did I know how deep that commitment would go!
Currently, I am a traveling Tour Chaplain as well as RWJM Chairman of the Board of Directors.
Joe Kelly, Chaplain
My life was radically changed by the grace of God in 2005, I was always a believer but I thought God was a mean old guy watching everything I did wrong and dishing out punishment for those things…How differently I know him now! My heart and passion is to share with the racing family the finished works of Christ and the true nature of God…which is unconditional Love, grace, and mercy. I am now serving as chaplain at Bubba Raceway Park in Ocala FL, as well as assistant announcer. I make my way around to several other tracks in the southeast including Volusia Speedway, Cochran Speedway, Al-Tech Raceway, and East Alabama Speedway. I am available for other tracks as well, you can reach me through Racing with Jesus Ministries; 24/7….
My desire is to build relationships with people and to be available in times of need.
Debbie Petfield, Board of Directors Advisor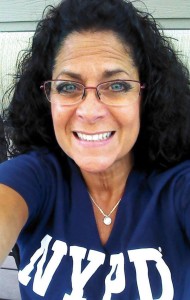 Hi, this is Debbie Petfield – I am wife to Rev. Dan who is a chaplain for Racing with Jesus Ministries. I cherish being a mom and a grandma and always look forward to spending time with my children and grandchildren. I work as a preschool teacher at a local nursery school here in NY. I am also on the worship team I help with the youth at our church and lead a woman's prayer group.
At times I am able to travel with my husband to the tracks to support and help him out. I always enjoy the excitement of going to the races, but I really cherish the times I am able to help bring the word of God to the racers during chapel. Occasionally I am able to sing at the chapel services that Racing with Jesus holds during race day. I see how God has called my husband to minister at the tracks and do the best I can to support him and help him out. May God bless each and every one of you!
Debbie Petfield ????